NEP Ballpark Layout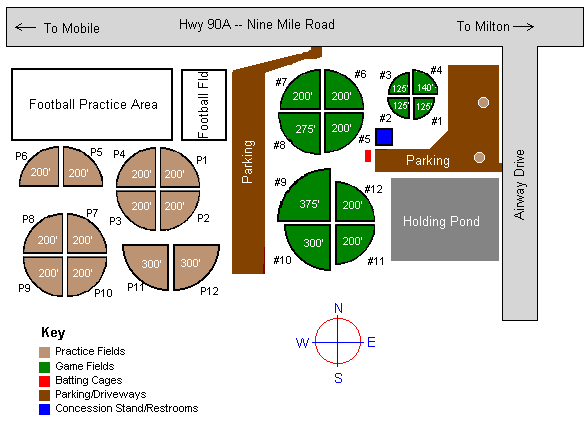 Entrance to the NEP ballpark is made at the North entrance from Nine Mile Road across the street from the Quail Run subdivision or from the East entrance from Airway Drive.

Fields #1, #2, and #3 are tee ball game fields, field #4 is used primarily for coach pitch games. Fields #5, #6, #11, and #12 are used primarily for minor (9-10 year old baseball) and major (11-12 year old baseball) league games. Fields #7 and #8 are used primarily for girls softball. Field #9 is used for 15-16 year old Dizzy Dean baseball and field #10 is used for 13-14 year old Dizzy Dean baseball.

Practice fields are scheduled for use by the scheduling director through the league commissioners.

There is currently one batting cage at the ballpark with plans for construction of three more in the month of February.